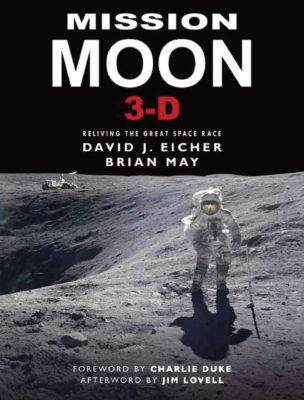 By David J. Eicher and Dr Brian May with contributions from the legendary Apollo astronauts and moonwalkers Charlie Duke and Jim Lovell.
---
The experience of this book is as close to being there on the Moon's surface as it's possible to get for Earth-bound creatures like us.
Charlie Duke
---
I'm proud to present the London Stereoscopic Company's 8th book, and this one is something absolutely unique. With text by Astro Guru David J. Eicher, it's the story of the space race and the Apollo Moon landings told from both sides of the race – and brought to life for the first time ever in true side-by-side full-colour stereoscopic 3-D.

Somehow, although it's 50 years since these historic adventures, the trail is as fresh as ever, especially viewed in the 'virtual' world of the stereoscope.
Brian May
---
It's brilliant – I love the stereoscopic imagery and it beautifully documents such an exciting era of space exploration.
Tim Peake
---
Mission Moon takes readers on a skilfully narrated and beautifully illustrated journey through the events which led up to Apollo 11's lunar landing in July 1969 when Neil Armstrong and Buzz Aldrin became the first people to walk on the face of the Moon.
The Mission Moon archive team delved deeper than deep into the NASA archives and Russian sources to obtain the most captivating historic images (many previously unseen) to bring the incredible Apollo adventures of the past to life in the present. This is the first time that the story of the space race has been captured in stereo (3-D) and it presents the largest-ever collection of stereo photos of the Apollo program, with over 150 unique views altogether. The 3-D imagery will enable readers to venture beyond the pages of the book, to the Moon and back. As with all titles published by Brian May's fine arts publishing company, The London Stereoscopic Company,
Mission Moon comes with a Lite Owl, a slick state of the art 3-D viewer designed by Brian May.